Master of Burgers
The Beauty & The Beeeef offers an incomparable choice of burgers with premium quality ingredients. An incomparable and unmatched quality: 100% Certified Angus Beef. Made of 100% beef shoulder, never frozen and without the addition of hormones.
23,95 $
Hangover
Two 5 oz patties, Cheddar cheese, 6 pancakes, mango and strawberry salsa, sirop honey & butter
18,95 $
Chili Burger
Two 5oz patties, Chilli, jalapenos, shredded cheese, sour cream
24,95 $
La Mooelleuse
7oz striploin, Swiss cheese, horseradish mayo, fried onions, lettuce, roasted tomatoes
24,95 $
La Charnue
7oz striploin, arugula, brie cheese, roasted peppers, roasted tomatoes, fig marmalade
13,95 $
Classic
Lettuce, tomato and red onion
16,75 $
Classic bacon and cheese
Cheddar cheese, smoked bacon, lettuce, tomato and red onion
16,95 $
The Beeeef
Cheese supreme sauce, jalapeno peppers, roasted red pepper and blue corn chips
17,45 $
The Goat
Goat cheese, crumbled goat cheese, arugula and honey mustard mayo
17,95 $
Avocado
Avocado, tomato and onion salsa, ranch sauce and lettuce
17,95 $
Mushroom
Swiss cheese, sautéed mushrooms with green onions, caramelized onions, lettuce and red wine sauce
17,95 $
Dallas
Monterey Jack cheese, cayenne pepper, roasted red pepper, smoked bacon, tomato, lettuce and BBQ sauce
17,95 $
Captain Flame
Monterey Jack cheese, smoked bacon, caramelized onions and spicy mayo
18,45 $
The Beauty
Brie cheese, Monterey Jack cheese, homemade fig jelly, arugula and caramelized onions
18,95 $
Calimero
Fried egg, smoked bacon, smoked Gouda cheese, lettuce, fried onions and spicy mayo
18,95 $
Nuclear
Jalapeno peppers, Habanero peppers, spicy Monterrey Jack cheese, fried jalapeno poppers filled with cream cheese, hot peppers salsa and volcanic sauce (you need to sign a discharge in case of ulcers or burn)
18,95 $
Big Jack
Two 5oz patties, secret sauce, cheddar cheese, chopped onion, chopped lettuce and sliced pickles
22,45 $
Super Pac Mac
Breaded deep fried mac n cheese buns, smoked bacon, cheddar cheese, mac 'n cheese, caramelized onions, red onion and mayo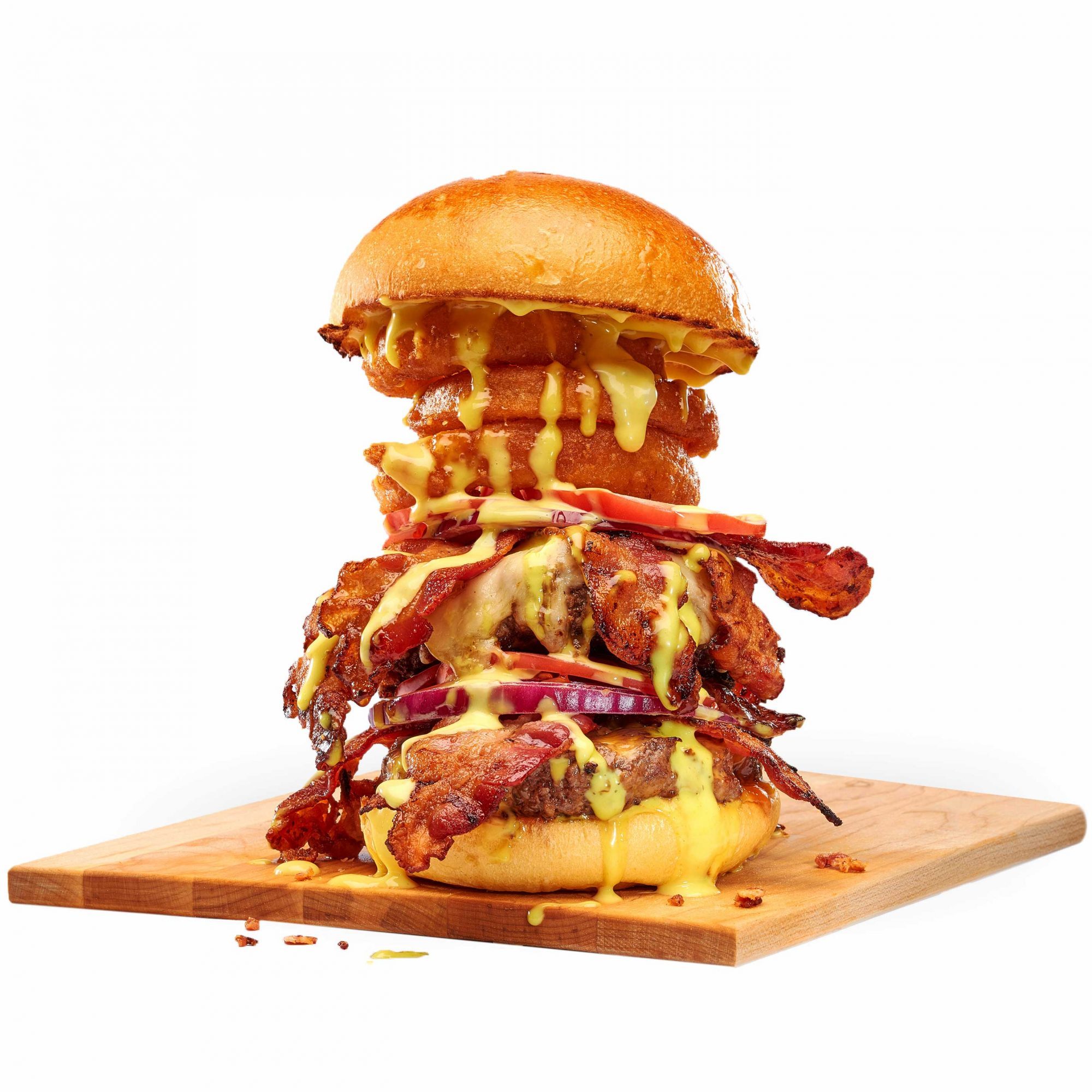 26,95 $
OMG
Double beef patty, cheddar and Monterey Jack cheeses, onion rings, double smoked bacon, tomato, red onion, lettuce and mustard mayo
37,95 $
Heart Attack
Triple beef patty, triple cheddar cheese, triple smoked bacon, Nathan's beef hotdog, sautéed mushrooms, sautéed onions, lettuce, tomato and BBQ sauce
49,95 $
Epic
Quadruple beef patty, too much brie, too much smoked bacon, fried KitKat, melted peanut butter and our porto mushroom sauce. Your picture will be on our wall of fame + you deserve a free bottle of Pepto + a chance to participate in our Pepto contest.
62,95 $
Spank Me
You should not order it. Some say there is a poutine in it. Others say the size makes no sense: over 10 inches and 5 pounds. If you don't finish it or if you share it, you will get spanked. You have to sign a discharge.